Tahun ini kami beraya sederhana sahaja.Tidak lah menukar apa-apa dalam rumah pada yang baru.tidaklah cat rumah.cuma beli sedikit aksesori baru saja untuk menaikkan seri rumah. Ala kadar sahaja.okey barulah dpt meraikan raya dan merdeka kerana berjaya melawan hawa nafsu sendiri.tidak perlu bergolok gadai atau berhutang peiutang untuk beraya.Tiada pembaziran.
Baju raya saya tahun ini Alhamdulillah 3 pasang saja.saya hanya ghairah beli baju kurung hanya pada syawal saja.lagipun selepas itu saya hanya memakai ke kenduri kahwin saja.kebiasaan saya membeli blouse dan baju menarik perhatian si dia di rumah.hehe.misi membeli baju raya boleh tahan memcabar.sebab saya ada juri tetap yang selalu memberi komen ktitikan jujur baju yang saya pilih.Dia adalah suami saya.Pilihan di reject adalah kebiasaan.bukan saja di rumah dia memastikan saya menjaga penampilan.tetapi di luar perlu memastikan imej muslimah dan aurat terjaga."ini jarang.tak boleh.ini ketat,tak boleh.kain tak bagus.tak cantik pun macam langsuir.over sangat macam langsir".Pelbagai komen! Jadi walaupun dah shopping awal.Bab saya yg paling akhir selesai sebab kecerewetan saya dan si dia.Tetapi saya bersyukur si dia begitu mengambil berat seba saya mudah terpengaruh juga dengan fesyen yang kadangkala tidak sesuai.
Gaya bertudung pula.fesyen apa tahun ini.Wardina? Bawal Juma? Hana tajima? Syria fara breep breep? Semua ok bagi saya kecuali gaya turban.that is not hijab.itu budaya barat.saya juga terfikir gaya itu sama seperti " aku selepas mandi bolot kepala dengan towel" pun boleh jadi fesyen.kalau terlebih bolot, jadilah seperti sarang tebuan.Bila mahu berfesyen pilih yang selesa dan mengikut syariee.Paling penting menepati prinsip kita dan kita rasa cantik menggayakannya.betul.kadangkala bila tengok manisnya wanita /gadis tersebut walaupun dia hanya bertudung bawal.But the most important.wearing hijab by covering your chest is the best! :)
saya mahu cantik luar dan dan dalam seperti dia.perasan! wardina sedang bergaya dengan tudung ariani dan najjah (tudung oren)
Kali pertama mencuba tudung dari ariani,najjah dan hana tajima.belum belajar melilit lagi.
Suami dan anak anak pula.persiapan mereka lebih lengkap dari saya.Suami dari atas sampai bawah semua item raya.bergaya sakan kalah saya! Hehe.Anak-anak paling kami utamakan.Baju tradisioanal kami beli sepasang saja.yang lain kasual untuk ditukar ganti.Tapi alhamdulillah rezeki kalian.nenek belikan juga baju raya untuk mereka.Sekarang paling seronok shopping raya kali ini ialah anak sulung sudah pandai memilih.sudah ada taste sendiri.Apa yang ummi pilih pun dia reject.hehe.Kelakar rasanya!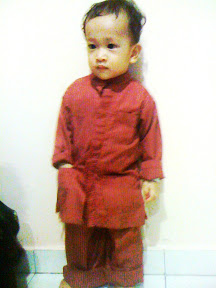 baju melayu nenek bagi.Hensem tak?Adam sudah bersedia untuk kumpul duit raya!
Kuih raya pula saya buat dua jenis saja.yg mudah saja.choc chip dan cornflakes madu.dapatlah bagi mak dan MIL sebekas.yang lain kuih tunjuk.ada beli.ada suami dapat hamper.campur jadilah banyak juga.hehe.jadilah kan,sebagai syarat saja.tahun lepas kuih raya banyak.end up buang saja.
cornflakes madu
Tahun ini insy kami beraya di Melaka.InsyaAllah sampai raya ke 3 di sana.Tak sabarnya nak jumpa sanak saudara.Bergotong royong sediakan menu pagi raya,ketupat dan rendang.

Nanti jemputlah datang Rumah ya.Korang dah siap preparation? Mestilah sudah kan.
Ramadhan belum habis lah.sibuk dengan raya! Cukuplah bebelan raya saya.Rebut peluang dua hari yg tinggal ini bersungguh-sungguh ya semua...;)
Posted using BlogPress from my iPhone