Each day of our lives we make deposits in the memory banks of our children.
-Charles R. Swindoll
Aktiviti minggu lepas ialah melawat perpustakaan buat kali pertama.Abbi diberitahu supaya datang pada hari tersebut kerana ada jamuan raya.Jadi 2 in 1 lah.Mahu melawat library baru juga.Namun,langkah kiri.Jamuan sudah berakhir.Makanan sudah licin.Sedih.
Hari itu.Barulah Ummi tahu wujudnya library baru negeri selangor ini.terletak di seksyen 13 di hadapan kelab golf shah alam.tidak ingat kali terakhir ke library shah alam dulu.semasa usia remaja mungkin.Dulu emak selalu bawa kami adik beradik ke library yang dahulunya berhadapan dgn muzium Shah alam.
Anak-anak kali pertama ke library.mentang-mentang library baru.Baru nak bawa.Dan hari itu adalah bermakna buat anak anak kerana mengenali suatu tempat bernama perpustakaan.Kami ajar library atau maktabah.Lebih mudah disebut.
Library ini menghadap sebuah tasik yang indah.Panorama menghijau di sekeliingnya.Bila masuk ke library kanak-kanak.Cantiknya! Moden.Ceria.Berorientasi kekeluargaan.Canggih.Terpegun.
Lengkap dengan tandas dan surau.Sementara anak anak explore tempat baru.Ummi solat sebentar.terdapat juga ruang meja kerusi untuk ibubapa.
Kemudahan computer disediakan juga.komputer dari mac lagi.Canggih.Eh,gambar komputer Mac tidak ambil pula.Nampaknya,Bukan anak anak saja riang gembira.ibu bapa pun melompat lompat begini.
Ya, ini kali pertama ke perpustakaan.Haruslah berposing merakam kenangan.Tetapi kamera tidak dibawa.Maka, gambar telefon tangan yang diedit supaya lebih mengagumkan telah berkhidmat sebaik mungkin.Haha.
Berdekatan kami, semua sedang berposing berlatar belakang pokok besar ini.Eh,ramai pulak berposing sakan di library baru.Nak masukkan dalam facebook la tu.Hehe.Jadi,haruslah berlakon sekejap.Gambar ni dari ipad.saya nampak pucat walaupun diedit.kurang asam betul!.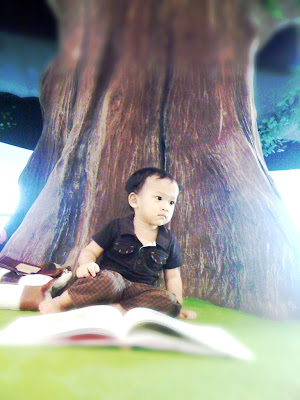 Adam tidak boleh fokus.sebab berlakunya aktiviti berlari lari oleh anak anak orang lain.meriah.Eh,library kanak kanak tiada rule.ini sangat menyeronokkan! Bebas.Suka hati kitorang lah.
Bermain dan meneroka sekitar kawasan.Buat lah apa saja kalian suka.
Adam minat buku tentang haiwan atau pengangkutan sahaja setakat ini.Adam terlalu minat dengan kereta.Sentiasa di tangannya.Malah,menyebut setiap kali ternampak.Tar Tar Tar! Itulah loghatnya menyebut Car.Hehe.Adam juga boleh membawa
keretanya sendiri
walaupun dalam huru hara.
Setelah ummi menjerit jerit.Panggil mereka.Eh,maknya pun buat havoc.pusing sana sini.tidak dapat mengawal keaktifan mereka.Dapat juga memancing perhatian.Ummi suruh saya membaca.oklah ummi..Adam bacalah ni..
Kakak belum habis explore.mula mengemas pula seperti biasa.Super rajin macam umminya.Haha
Ada sediakan meja kerusi comel2 ! Geramnya.kakak minat buku tentang princess,girly dan yang berwarna pink!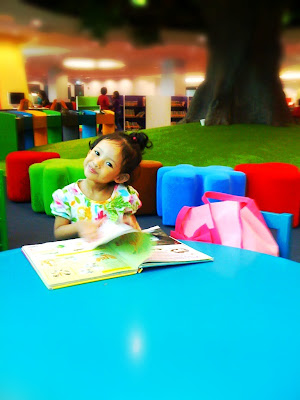 Gadis comel saya kerap bertanya.tempat apa ni,ummi? Ummi,jawab inilah library.Inilah tempat membaca buku.Banyak buku boleh Aufa baca.Dia mengiyakan.Ooooh library.Kini library ada dlm kotak memori dia.
Gaya Adam bila mahu meniru riak muka haiwan liar.Cukup bengiskah? Takut tak? Haha.
Walaupun gelap.Nak tunjuk belakang tu tasik.nampak tak? Kan dah cakap permandangan mendamaikan. ;-)
Anak-anak gembira sampai tidak mahu balik.Lain kali sudah tentu kita datang lagi.Mungkin lain kali kita boleh cuba meminjam buku pula.Inilah kenangan pertama kalian ke perpustakaan.Kami seronok kalian gembira.kalian minat buku walaupun belum pandai membaca.Alhamdulillah.:)
Jom kita ke library? Mahu?